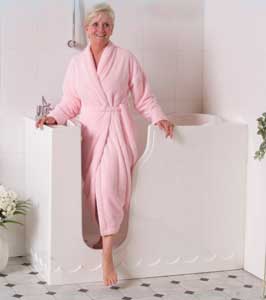 Are you or a loved one having problems getting in and out of a traditional bathtub and worried about bathroom safety?
Then it's time to install a walk-in tub from Senior Home Safety Solutions in Los Angeles!
Proud to be Los Angeles' most trusted walk-in tub sales and installation company.
Senior Home Safety Solutions provides local Los Angeles residents with accessible walk in bathtubs, walk in showers, and walk in tubs with full service custom installation.
Safety and comfort in a walk-in tub!
Senior Home Safety Solutions' walk-in tubs offer independence to people looking for a safe, easy and comfortable bathing experience right in their own home with a high-quality, American-made tub, as well as professional installation and service.
And we do it all at a lower average price than our competitor walk-in tubs and showers!
Don't make the mistake of hiring any other walk-in bathtub installation company until you've talked to Senior Home Safety Solutions.
We look forward to being of service to you and earning your trust and business.
Call us and schedule your FREE in-home consultation and estimate – we come to you!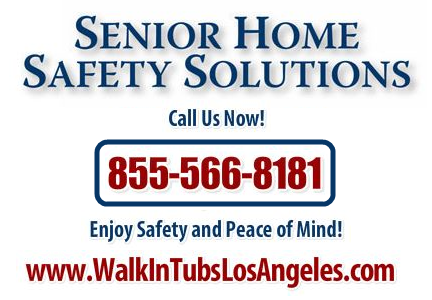 When you invest in a Senior Home Safety Solutions walk-in tub, you are not only investing in your home, you are investing in your personal safety, independence and comfort – at a time in your life when these are needed most.
Made in the USA!
We are proud to say that all of our walk-in tubs and showers are 100% American made, parts and labor included.
[trafficplayer_skin padding: 29px 0 0 70px; width: 714px; height: 472px; background: url(http://walkintubslosangeles.com/wp-content/uploads/skin4_640x385.png) no-repeat top left; text-align: left;][trafficplayer_youtube_video width="640″ height="385″ src="http://www.youtube.com/embed/CAzOGWp9XsU?modestbranding=1&autohide=1&showinfo=1&controls=0&hd=0&rel=0″ ][/trafficplayer_youtube_video][/trafficplayer_skin]
Free consultation and in-home estimates!
No tricky sales gimmicks or pushy salespeople, just good solid information and the truth on what the right solution is for your specific needs.
There's absolutely no obligation whatsoever to have us come out to your home, answer some questions and give you a written estimate.
Call us right now and schedule your FREE in-home consultation and estimate – you'll be glad you did!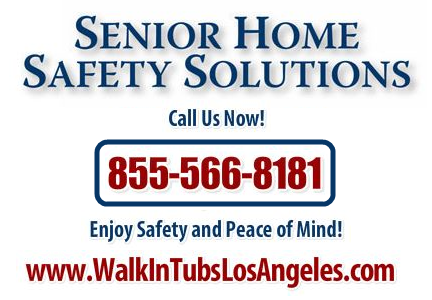 What Areas in Los Angeles Do We Service?
We are proud to be Los Angeles' premier walk in bathtub and easy access shower providers. Our areas of service include all of Los Angeles County including: the city of Los Angeles, Los Angeles County, Agoura Hills, Alhambra, Arcadia, Artesia, Avalon, Azusa, Baldwin Park, Bell, Bell Gardens, Bellflower, Beverly Hills, Bradbury, Burbank, Calabasas, Carson, Cerritos, Claremont, Commerce, Compton, Covina, Cudahy, Culver City, Diamond Bar, Downey, Duarte, El Monte, El Segundo, Gardena, Glendale, Glendora, Hawaiian Gardens, Hawthorne, Hermosa Beach, Hidden Hills, Huntington Park, Industry, Inglewood, Irwindale, La Cañada Flintridge, La Habra Heights, La Mirada, La Puente, La Verne, Lakewood, Lancaster, Lawndale, Lomita, Long Beach, Los Angeles, Lynwood, Malibu, Manhattan Beach, Maywood, Monrovia, Montebello, Monterey Park, Norwalk, Palmdale, Palos Verdes Estates, Paramount, Pasadena, Pico Rivera, Pomona, Rancho Palos Verdes, Redondo Beach, Rolling Hills, Rolling Hills Estates, Rosemead, San Dimas, San Fernando, San Gabriel, San Marino, Santa Clarita, Santa Fe Springs, Santa Monica, Sierra Madre, Signal Hill, South El Monte, South Gate, South Pasadena, Temple City, Torrance, Vernon, Walnut, West Covina, West Hollywood, Westlake Village and Whittier.
Senior Home Safety Solutions clients enjoy safety, comfort and peace of mind with our walk-in baths. It's very rewarding and fulfilling knowing that our hard work and superior product line has such a dramatic effect on the health, safety and well-being of so many people in Los Angeles county.
We appreciate you reading this post completely and look forward to assisting you with your specific needs.
In addition to the above, we've included various selections of news articles, videos, pictures, social buzz and information below to get a snapshot of what's being discussed in our industry right now. Enjoy and thanks for visiting our site!
Bathroom Safety In The News:
Bathroom Safety Tips for Seniors « Bloggers Joy
http://www.bloggersjoy.comWed, 30 Oct 2013 15:15:08 GMT
Danger can be anywhere around you. Anything can happen to you even when you are home, unless you are prepared or have taken safety precautions to protect your loved ones. We should be ready for any kind of danger …
Hugo Mobility :: Bathroom Safety – Stepping out of the Tub
http://www.hugoanywhere.comThu, 29 Aug 2013 18:30:55 GMT
Key Bathtub and Shower Safety Issues. According to the Center for Disease Control in the US, more falls occur in the bathroom than any other room in the house. And two-thirds of bathroom injuries occur near a tub or shower.
safety at home – in the bathroom | The Neighborhood
http://neighborhood.vivint.comTue, 27 Aug 2013 14:00:41 GMT
It's important to keep your home safe for everyone who is living there. From updating your smoke detectors to installing baby gates, there are all sorts of things you can do to make your home safer. What do you need to do …
Safety Goes Beautiful in the Bath – Houzz
http://www.houzz.comSat, 02 Nov 2013 22:00:02 GMT
Bathroom safety is an important issue that doesn't get much attention from homeowners. Why? Because it isn't sexy. "We don't question putting handrails on stairs for safety," says Ian Crawford…
Man Sentenced To Jail In Indiana Co. Toddler's Tub Death – CBS Local
http://news.google.com<Tue, 12 Nov 2013 13:54:20 GMT
Man Sentenced To Jail In Indiana Co. Toddler's Tub DeathCBS LocalThere had been a previous incident in the home involving the bathtub, which resulted in water safety classes and a warning to CYS. Previously, a state trooper testified that Tonya Thoma …
Tweets About Bathroom Safety On Twitter:
Bathroom Safety Related Videos On YouTube:
Safety in the Bathroom : Home Safety & Preparation
Subscribe Now: http://www.youtube.com/subscription_center?add_user=EHowatHomeChannel Watch More: http://www.youtube.com/EHowatHomeChannel There are a number …
How to Make the Bathroom Safer for Your Elderly Parent
For the elderly, the bathroom can be the most dangerous room in the house. This video provides step-by-step instructions on how to safety-proof the bathroom …
There are certain things you can do, right in your bathroom, to help keep your home and family safe! Here are a few tips: Read the directions carefully for e…
Bathroom Pictures From Flickr:
.
.
.
.
.
.
.
Related Bathroom Safety Documents on Slideshare:
Bathroom safety products for seniors
http://www.slideshare.net2012-11-03 16:49:17 UTC
The bathroom is the kind of place in the house where slips and falls are fairly common occurrences. This is especially true for seniors since their poor balance or weakness makes the task of having a bath very difficult.
Safety accessories for the bathroom
http://www.slideshare.net2010-10-17 02:27:30 UTC
Do you have a loved one that needs safety accessories in the bathroom? There are many different kinds of items in your local pharmacy.
http://www.slideshare.net2013-02-19 08:49:51 UTC
Kaminskiy Design and Remodeling San Diego's best Home Remodeling, Room Additions, Kitchen Remodeling and Bathroom Remodeling company. Contact via mail- Contact@KaminskiyInc.com and Phone – 858.271.1005, 858.271.1002, 888.301.7815
Bathroom Safety Related Wikipedia Pages:
http://www.wikipedia.org/wiki/About Safety
About Safety is a children's educational television program which originated in … a Taste of Kitchen Safety – Clyde Discovers Bathroom Safety …
Plumbing Manufacturers International
http://www.wikipedia.org/wiki/Plumbing Manufacturers International
clearinghouse for information about plumbing fixtures and fittings, as well as information about clean water, water efficiency and bathroom safety. …
http://www.wikipedia.org/wiki/Functional Safety
Functional Safety is the part of the overall safety of a system or piece of … from bathroom showers automotive safety products, medical …